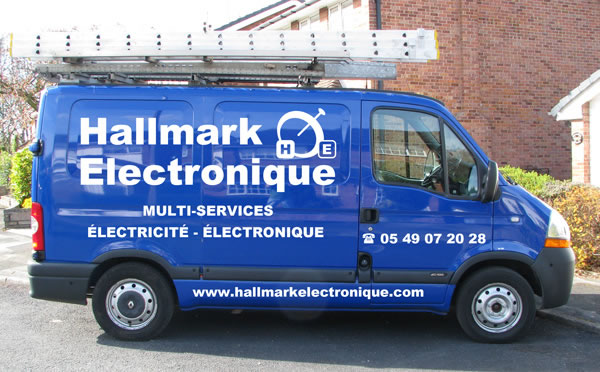 Home
Hallmark Electricité is a small family business offering a comprehensive range of services, including: electrical installations, electronics and auto electrics. We pride ourselves on first class customer service and aim to provide 100% customer satisfaction, responding to customer needs in as timely fashion as possible. This often entails a 24/7 service.

Whilst we are based in the South Deux-Sevres, practically on the border of the Charente, we cover the entire Poitou-Charentes region but will travel further afield, subject to mileage surcharges.

Hallmark Electricité is registered and insured in France for all of its activities. When making price comparisons please ensure that the company you compare us with is also registered/insured. The last person who works on an electrical installation in France takes full responsibility for that system. If they are not qualified/insured and they make a mistake your insurance may not pay out.

Our two vans carry advanced testing equipment for electrics, electronics and auto-electrics. All installations undergo full final testing upon completion of the job to ensure compliance and quality control.

Hallmark Electricité can survey your job requirements FREE OF CHARGE to produce a detailed devis that is sent to the customer as soon as possible.
We are CAI qualified (Confederation of Aerial Industries) - the CAI are the recognised body for the Aerial and Satellite industry. Our electrical service complies fully with French regulations and we are always prepared to spend as much time with the customer to ensure we fully understand their needs and requirements.

Hallmark Electricité offers a wide range of services based around the electrics/electronics/auto-electrics theme - please visit the links for more information.

If the service you require is not listed - don't hesitate in contacting us - we should be able to help you.
Cookies Policy

On the website we have cookies in the form of a "statcounter", this is an application that we use to help optimise our website and find out how we can improve your experience. No information will be sold to a third party, all information gathered will be only be accessed by Hallmark Electricité.

What are cookies?

Cookies are on most websites, they grab information based on your computer settings to help optimise your future visits.
In the case of hallmarkelectricite.com, We simply use them to see how many people visit our website, how long for, which pages are more popular, how you have found us, what you have searched for, etc.

No cookies are used in any malicious way, we simply use them to optimise the viewing experience and content for you, the client. For any more information on cookies please feel free to contact us.
Hallmark Electricité